Health Insurance Options
Please CLICK HERE to get a quote and/or sign up all the way!

(

NO-ONE except Andy Simmons will see what you input!)

We can help you navigate your health insurance options for 2018. We are certified to sell the new Affordable Care Act (ACA) health insurance plans ON or OFF the Marketplace, so please give us a call to get insured now! We represent Blue Cross, Priority, United Health Care, and Humana so we can definitely find a plan that fits your needs.

First of all, there's one decision that will be simple - whether or not to use an agent. You have nothing to lose and a lot to gain by using an agent. Please click here to see some of the value of using an agent to help you with all of your insurance needs. And also, it does not cost you more!! Many people think that if they use an agent, their insurance premiums are higher. Nope!

Once you learn what your tax credit will be (or not) and research the plans a bit by clicking the quoting link above, you can give us an email or a call and we'll help discuss your plan options. If you do want to go ahead and sign right up WITH a tax credit and still have us be your agent for future help with billing and claims issues, you can sign up directly at that site. You will get to a point where you can check a box that says "another person is helping me complete my application". Check that box, then fill in my name Andrew Simmons, and my ID number, which is 7902766. If you'd rather do a phone call instead of typing your info on the internet, you can call the number at 800-318-2596, but we REALLY don't recommend that! You should just call us!

If you are sure you won't qualify for a tax credit, then I would recommend signing up for a Priority Health plan since, for 2018, in my opinion, they have the best combination of price, customer service, and coverage. Click here to sign up in 5 minutes.

Open Enrollment is from 11/1/17 to 12/15/17, which means that there are only certain ways that you can purchase a new plan outsite of open enrollment. To see if you are eligible to sign up outsite of open enrollment, please click here. If you are not eligible to purchase a new policy, you will have to wait until the next open enrollment period, OR,

Some folks are choosing to purchase Short Term policies, which will NOT get you out of the tax penalty (2.5% of your income for 2018!), but are significantly less expensive than the new ACA policies so you would still end up money-ahead. To get a quote for that, please click here and plug in some anonymous info quick. We usually recommend the 'Medical Plus' plan.


~~~~~~~~~~~~~~~~~~~~~~~~~~~~~~~~~~~~~~~~~~~~~~~~~~~~~~~~~~~~~

Some Math behind the logic of the tax credit.....
If your household makes less than 250% of the Federal povery level (FPL), then signing up ON the Marketplace will benefit you most. Especially since you will not only receive help paying your premium (Advance Premium Tax Credit = APTC), but you'll also get help paying your deductible and other things to help reduce your out of pocket exposure (Cost Sharing Reductions = CSR). If you make between 250% and 400% of the FPL, then you will get a tax credit, but it won't be as much (You'll just get the APTC.)
Example of estimating (using fake numbers!)
If you estimate $40K, you would earn a $500 tax credit per month
If you estimate $50K, you would earn a $400 tax credit per month
So if you estimate $40K, but you actually earn $50K, then you would have to pay back $1,200 when you do your taxes. [ (500-400)x12]
But the opposide is also true... if you estimate $50K, but only make $40K, then you get $1,200 added to your tax returns

Use the chart below to determine your potential tax credit for 2018. The household size would be for the people that you claim on your taxes, whether they will be on the plan or not. More details found here.

Federal poverty Level Chart (eff. 1/25/17) - estimated household income (Adjusted Gross - line 37 of your fed 1040 tax form is not 100% accurate, but it is the easiest way to get a very close estimate). More specific details found here.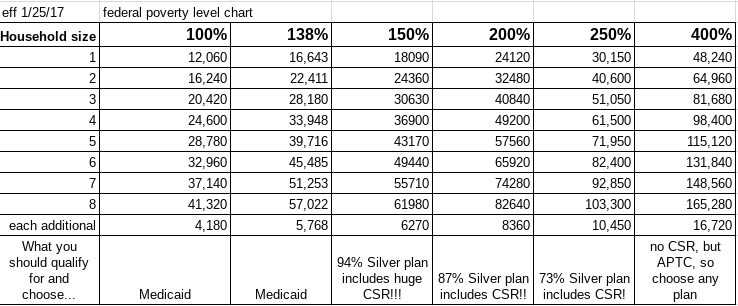 Another COMPLETELY different option is Medishare! None of the gobblegook above matters with Medishare! We're licensed to sell that now and Dave Ramsey has started endorsing it! Please CLICK HERE to learn more about it! If you are healthy and Christian, this could be a great idea for you!




Please call or email us any time and we'd be happy to walk you through this process. We can usually get you fully signed up in under 30 minutes. 616-896-4600 or email us at info@shieldagency.com